The Best of Professionals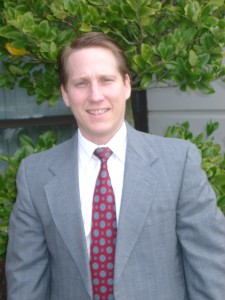 Chris Johnson
Owner-Principal Broker
(971)-271-7174
Email Chris
I bought my first rental property in 1989, and decided in 1992 to get my real estate license and help others buy and sell property. I spent the first 3 years in the business also working on leasing services as a tenant representative with Leland Properties. The next 14 years, I worked for and then partnered with J. L. Lutz and together, we focused most of our efforts on plexes, multifamily, and ultimately we also grew into property management too. As of 2012, I am the owner of CORE, Realtors, and I currently provide a client-centric approach to all levels of property for buyers, sellers, and management clients too.
My best asset continues to be my wife Randee, who not only keeps me grounded but also provides tremendous expertise as a licensed CPA in the State of Oregon. With a passion of tennis in "off" hours, I find myself on the courts enjoying time in the craftwork of the game.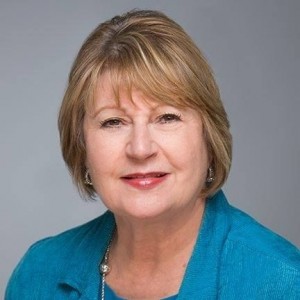 Ellen Bick, Broker
503-481-0825
Email Ellen
Click here to visit Ellen Bick's website
Ellen Bick has worked as a real estate broker for the past 23 years, with experience in new construction, mortgage lending, and investment and residential real estate, representing buyers and sellers. She has worked in the real estate industry in Oregon for the last 17 years. Her emphasis for the last ten years has been in residential and multi-family properties.
One of her personal strengths is to see the big picture, to orchestrate a complicated transaction, and to work well with the many people involved. Ellen is an impeccably organized and positive person who enjoys the challenges of each new transaction. She will find the resources needed to overcome any new hurdles.
She has attained an advanced college degree and three advanced real estate designations: GRI Graduate Realtor Institute; ABR Accredited Buyers Representative; SRES Seniors Real Estate Specialist. In her spare time, Ellen enjoys cooking and traveling. She currently serves on several local, regional, and international boards as a volunteer, and enjoys giving back to her community.
Ellen's website is EllenBick.com.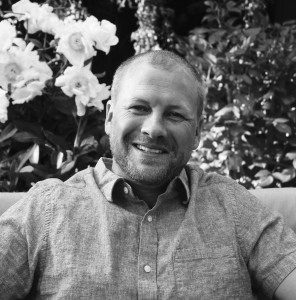 Conor Finlay, Broker
503-545-7935
Email Conor
Click here to visit Finlay Real Estate
In 2011 I purchased my first house, a duplex, in Northeast Portland. To say this was a fixer upper would be an understatement, however after a 2 month extensive rehab we had created a great home in a great neighborhood. More importantly, I had become hooked on real estate.
In 2016 I decided to leave my corporate job of 14 years and turn my passion of real estate into a career. Whether you are a first time homebuyer trying to figure out if you can afford a home in our competitive Portland market, or are looking into an investment property I am here to help. I believe that a house is not only a home, but also a means of financial independence and wealth creation. I specialize in seeing the potential of any property and am a firm believer that with creativity, sweat equity, and a solid plan, any house can be a great home and financial investment.
Conor's website is finlayrealestate.com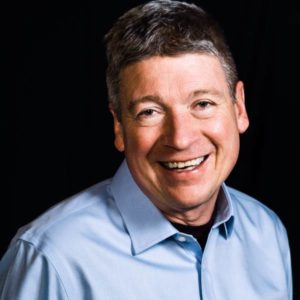 Dave Hiller, Broker
503-729-8797
Email Dave
Through my 40 years of experience in buying, selling and investing in real estate for my family, I've learned a thing or two along the way. My practical experience will assist you every day and I am here to work for you.
Being a first generation American, I started off very humbly. I was taught that a person's word is their bond and I needed to earn my way in life. I started working my first job at age 16. Working my way through college I was the first in my family to graduate with a college degree. Later I worked full time and completed a post graduate degree, at night. I spent most of career in the technology field in engineering, marketing and sales disciplines.
Being an avid runner, I have competed in many races including Eugene, several Portland and recently finishing the Boston Marathon. Besides running, I enjoy being part of Toastmasters International, gardening, traveling with my wife and having our rescue dog Chance walk me every morning.
The Office is Our Nest
But who we are, also extends to what we do, and where we work. We'd like to share some things that matter to us in terms of where we perform what we do as our craft, for you!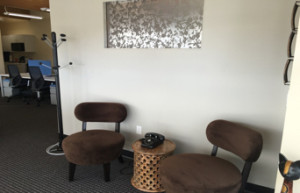 We certainly offer a great place to sit a spell, in case you are early for your meeting with us. And granted, we have all the technology in place, and yes………that is a rotary dial phone. We like to have some whimsical things in our lives too.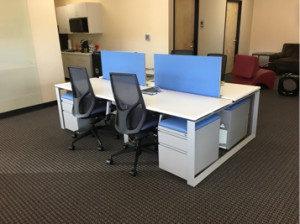 The broker's pod. Clean and crisp work stations, fully wired for power and direct network access. Functionality is super important, we are working brokers, we move data to and for you, we analyze, we recommend. We need a place to sit and do our thing, which is to make you satisfied buyer, seller, and/or property management client. But we don't want to be trapped in a four wall office, we want to collaborate, synergize, and energize each other to help you.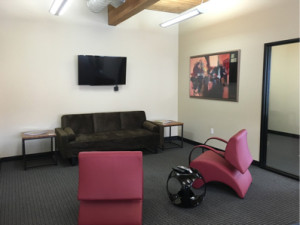 Play time happens here. This is a place where we can go, to just take a break. It's also a great place to comfortably discuss real estate or anything else on one's mind. It's a place where clients can come with us to have fun AND discuss real estate. And if anyone has an itch for Apple TV, we have that too!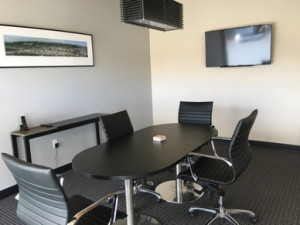 The conference room is where we really make it happen, really. It's a place to strategically discuss with clients what we need to do, to get the job done. We have a fully integrated 50 inch monitor to allow casting from laptops to the wall, so everyone can comfortably talk and see what is at hand, without the need of the "laptop huddle". It's our power room, ultimately, it's your power room.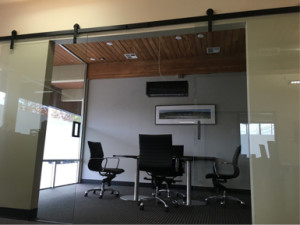 Take a moment to study the headrail that holds these fantastic glass doors outside our conference room. It speaks to the essence of Core, the attention to detail, and the story behind the detail too. This headrail is a hardened steel system, manufactured by a local Portland company. It's steel that is blackened, not by paint but by heat & fire. The glides and wheels that hold the glass doors, are open faced, old fashioned ball bearings. All together, this system is simply craftwork at it's finest.  The picture simply doesn't do it justice, but when you come to meet with us, you'll see for yourself.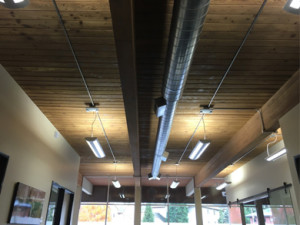 State of the art lighting, but completely eco-friendly. Spiral ductwork, for old school meets new school cool. But the best thing here of all, is how it all works with the ceiling.   It's just a perfect blend of old and new coming together.
Our office, our nest, is your nest. We firmly believe that a positive working environment, thoughtfully created, will yield the greatest real estate outcomes for you. We are working brokers, meaning we all collaborate for each other, for the benefit of each client. The company, the people, the systems, the nest, it's all there for you.